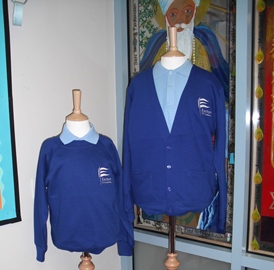 We believe that having a uniform helps create a sense of identity and encourages self-respect. Smartly dressed young people give a good impression of themselves and their Academy. We rely on the support of parents in ensuring that our young people come to the Academy dressed appropriately, and presented smartly.
The Academy has strict guidelines on dress and all pupils will be expected to wear the full Academy uniform. The wearing of our distinctive uniform gives pupils a sense of 'belonging', helps foster a pride in the Academy and stops pupils coming to the Academy in unsuitable clothes.
The uniform for Nursery, Reception and Years 1, 2, 3, 4 and 5 will comprise:
Academy light blue polo shirt with logo or a plain polo shirt or white formal shirt or blouse.
Black/Grey trousers or skirt or pinafore dress (jeans and cords are not allowed)
Summer gingham dress (blue or white)
Black leggings under the skirt for girls where appropriate. 
Black Hijab for Girls with the academy logo where appropriate
Summer Hijab White with the academy logo where appropriate
Academy sweatshirt or cardigan, in blue, with the Academy logo
Black or white socks or grey tights with skirts
Academy book bag
The Year 6 uniform is as above but with a Purple Jumper/Cardigan
Parents are asked to provide:
Sensible black shoes (not boots or trainers)
Suitable footwear for PE
A warm coat (not denim) for travelling to and from the Academy
Jewellery is not allowed, except for one pair of ear studs. Earring hoops, rings, nail varnish and makeup are not allowed.
PE Kit
All children must wear a PE kit during PE and sporting activities for safety and hygiene reasons.
Our PE kit includes;
black shorts or jogging bottoms
plain white T-shirt
black plimsolls/daps or plain black or dark trainers
We expect all of our pupils to wear the Academy uniform with no additional items. 
Uniform can be purchased from Monkhouse Schoolwear in store or online here 
We do have second hand uniform available within school - please contact the Ofiice for further details